Terms & Conditions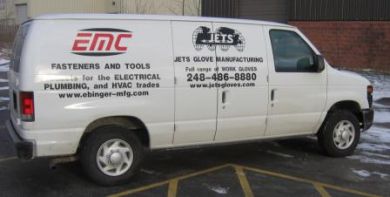 FREIGHT POLICY
A. Michigan Area: $250.00 minimum for our truck delivery.
Michigan orders over $250.00 that are in our delivery area including Freight Excluded Items, will be
delivered free of charge. Michigan orders over $250.00 but not in our delivery area, will be shipped full
freight allowed, with the exception of FREIGHT EXCLUDED ITEMS. Please see Freight Excluded Items
listed below.
B.Ohio, Indiana, Kentucky and Illinois areas : $500.00 freight allowed except freight excluded items.
C. CT, DE, MA, MD, NJ, NY, PA, RI, VA, WI, & WV : $600.00 freight allowed except freight excluded items.
D. All other areas: $900.00 freight allowed except freight excluded items.
FREIGHT EXCLUDED ITEMS
Anchor Bolts

Hand Trucks

Nail Plates

Aluminum Duct

Insta Foam
Propane Gas (EPG)*

Chain Products

Boca Plates
FHA Plates

Dexion Slotted Angle

WD-40

Paint

Duct Tape

Wire Core

Packaging Tape
Bulk Fasteners

(Includes Quarter kegs)

Hanger Iron
Shoe Plates
Cable Staples
Patching Cement

Shovels

Wasp N Hornet

Spray

Mapp Gas (EMG)*
Sealer Duct
Rags (10lb, 25lb, 50lb)

Slush Boots

Tarps

Thread Cutting Oil

Threaded Rod

Rainwear
*NOTE:
MAPP GAS and PROPANE GAS will be charged $25.00 per case WHEN SHIPPED VIA U.P.S. per U. P. S.'s hazardous materials handling regulations. This charge will be invoiced to the customer regardless of order amount.
For your convenience, EMC will prepay all freight shipments and invoice the freight charges, where applicable.
ALL DISCREPANCIES IN SHIPPING MUST BE REPORTED WITHIN 48 HOURS OF RECEIPT OF GOODS.
STANDARD PACKAGE SHIPMENTS ONLY: Orders for broken package quantities will automatically be increased to standard package quantities.
1. PAYMENT TERMS:
A. 1% 10TH - NET 30 DAYS. Balances over 60 days will be subject to a 2% monthly late charge.
B. For new customers, we need authorized banking information together with three (3) active trade
references. We also accept VISA, MASTERCARD, AMERICAN EXPRESS or a check in advance.
2. MINIMUM ORDER: We have no minimum order requirements. For orders totaling less than $50.00, a $5.00 handling charge will be added.
GUARANTEED SALES POLICY: EMC's Guaranteed Sales Policy allows you to order any of our items for the first time on a trial basis. When you want to purchase a product on a guaranteed sale basis, "Guaranteed Sale" must appear next to the product line item on the purchase order. REORDERS, SEASONAL ITEMS AND PROMOTIONS DO NOT QUALIFY FOR THIS PROGRAM. If that item does not sell to your satisfaction, it may be returned for full credit within 180 days from receipt of the goods. All returns must also comply with the Return Goods Policy outlined below.
3. RETURN/EXCHANGE:
A. EBINGER MANUFACTURING guarantees the quality of our products. If you need to return or
exchange an item for any reason, call our Customer Service Department within 7 days after receiving your order. All returned goods require a Returned Goods Authorization Number, which can be obtained via phone prior to return shipment and written on the outside of the shipping carton. RGA's are only valid for 30 days from the date issued.
B. RETURN GOODS POLICY: All merchandise returned will be subject to the following charges:
• NO RESTOCKING CHARGE with EMC Invoice Number
• 20% RESTOCKING CHARGE without EMC Invoice Number
• 10% RESTOCKING CHARGE WITH EMC INVOICE for order placed in error.
All returns must be:
1. Within 1 year of the date of purchase and in resellable condition.
2. The item must have a Return Goods Authorization (R. G. A.) number, obtained prior to shipment and written on the outside of the freight prepaid shipping carton. Any merchandise not returned according to EMC's Returned Goods Policy will be held pending customer disposition.
Returns for Refund
Only the original purchase price is refundable. Shipping and handling is not refundable. Call our Customer Service Department within 7 days after receiving your order and follow all other return policies.
Damaged or Defective Goods
Ebinger Manufacturing Co. guarantees the quality of our products. If you need to return or exchange due to damage or defect, call our Customer Service Department within 7 days after receiving your order.
4. SPECIAL ORDERS & DROP SHIPMENTS: All special orders must be in accordance with standard packaging. EMC must be given an irrevocable purchase order to initiate special orders or drop shipments. NO CANCELLATIONS OR RETURNS WILL BE ACCEPTED AFTER THE ORDER IS PLACED. We offer drop shipment to one destination per order at no additional charge.
5. WARRANTY: EMC makes no warranties, expressed or implied, other than those made by the manufacturers. EMC neither assumes nor authorizes any person(s) to assume any liability in connection with the sale of any products.
*PRICES ARE SUBJECT TO CHANGE ANYTIME WITHOUT NOTICE.
PRIVACY POLICY NOTICE
Ebinger Manufacturing Company knows it is important to know how information about you is used and shared by our company. We respect your privacy. This notice describes our privacy policy. By visiting emcfasteners.com and/or fastenerssafety.com, you are accepting the practices in this Privacy Policy Notice.
We collect no information from you unless you knowingly provide us with personal information. The information you give us, entered into our website(s) for the purposes of requesting information from us or purchasing products from us, is stored securely and is only used to process your orders, responding to your requests and communicating with you when needed. We do not share the information we receive from you with anyone outside of Ebinger Manufacturing Company. You must be 18 years of age to use/purchase from emcfasteners.com and/or fastenerssafety.com.
To File a Complaint
Contact EMC's Customer Service Department to file any kind of complaint.
CUSTOMER SERVICE CONTACT INFORMATION
By telephone: 248.486.8880
By email: EMC@EBINGER-MFG.COM